Is your driveway or commercial parking lot showing signs of wear? Should it be repaved, repaired, resurfaced, or does it need a fresh layer of sealcoat? The options can be confusing, but Hudson Valley Brothers of Wallkill can help!
Call: 845-868-2525
Or Fill Out the Form Below For a FREE Estimate!
The Best Asphalt Paving Company in Wallkill!
Hudson Valley Brothers provides all the services you could possibly need to care for your driveway or parking lot. And we have the knowledge, expertise, and experience to evaluate the condition of your property and determine exactly what it needs. So if you own a home or business in Wallkill, we'd love to be your paving company!
Why Choose Us?
We have a 100% customer satisfaction guarantee on every job we do.
We provide any and all paving services you could possibly need.
We have the experience, knowledge, and tools to handle jobs of all sizes.
Services We Provide
Driveway Replacement
Patching
Resurfacing
Sealcoating
Asphalt Milling
Line Striping
Commercial and Residential Services
And More!
Asphalt or Concrete – Which is Better?
If you need a new driveway or parking lot, you might be wondering whether asphalt or concrete is better. Both last a long time if properly cared for. Though there are pros and cons to both, we prefer asphalt. Why?
Asphalt is less expensive for home and business owners to install, but does that mean it's inferior to concrete? We don't think so. It is a little more malleable than concrete, which means it'll need more maintenance. But no matter which one you choose, eventually it'll need repairs. And repairing asphalt is quick, inexpensive, and easy. On the other hand, repairing concrete can be a huge job. It often requires a larger crew, specialized equipment, and more money. So why choose asphalt paving over concrete?
It's less expensive to install.
Though it requires a little more maintenance, repair work is cheaper and easier.
If properly cared for, it can last up to 20 years or more!
The Benefits of Sealcoating Your Driveway
Over time, your driveway takes a beating from heat, snow, freezing temperatures, rain, and other harsh elements. This causes cracks and discoloration. The algae, mold, car oils, and other substances sitting on the surface might seem harmless. But they're actually wearing down its structural integrity bit by bit.
What can you do? Sealcoating to the rescue! A layer of sealcoat shields your asphalt from all the harsh elements and substances that can harm it. And sealcoating doesn't just protect your property, it also protects your wallet. Regular maintenance means you'll avoid expensive repairs in the future, your driveway will last longer, and it'll look great!
Call: 845-868-2525
Or Fill Out the Form Below For a FREE Estimate!
Driveway Replacement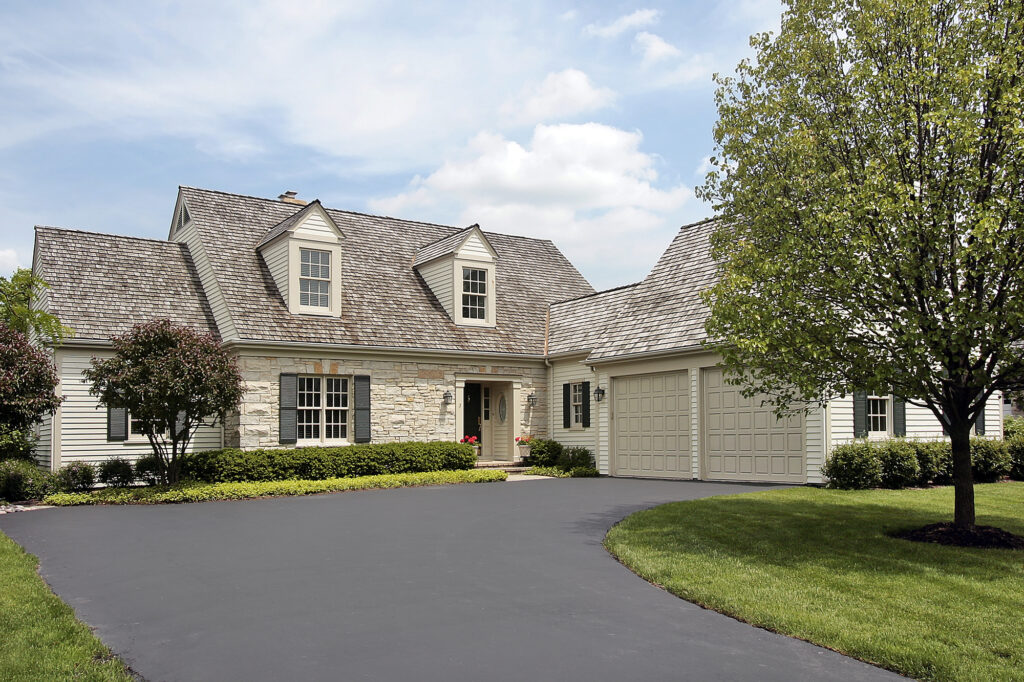 Although asphalt driveways last a long time, no driveway lasts forever. How can you tell when it needs to be replaced?
The cracks and potholes are too large to be repaired.
It has sustained significant damage from drainage issues.
Neglecting regular maintenance has sped up degradation.
If you live in Wallkill and you need to replace your driveway, give us a call. We can help!
But driveway replacement isn't always the answer. At Hudson Valley Brothers, we can evaluate your driveway and determine if repair or replacement is needed.
Patching
One repair technique we use is patching. Do you have a younger driveway with a few small holes and cracks? Then you probably just need some minor repairs. Patching should begin with a clean surface. At Hudson Valley Brothers, we'll remove dirt, dust, and vegetation. Then we'll use a patch or crack filler to fill in the gaps, evening out the surface.
Asphalt Milling and Resurfacing
What if more than patching is needed, but it's not so bad that it needs to be replaced? Then you'll need to resurface your driveway. Resurfacing can often be a cheaper and faster solution than driveway replacement. What resurfacing techniques do we use?
We use a process called asphalt milling to grind down one or two layers, depending on the level of damage. This milling process works out all the cracks, bumps, and ruts, leaving you with a smooth surface. It also can provide better drainage.
After the top layer is removed, we lay down a fresh layer of asphalt. Resurfacing can add 15 years to the life of your driveway.
Why Use Asphalt Millings?
Asphalt millings are the recycled bits of asphalt leftover from resurfacing. And they're a great option for those who need installation or repaving services. Installation of these millings produces less dust, odors, and vapors than installing traditional asphalt. And weeds and other vegetation have a hard time growing through the millings, making this a pretty low maintenance option. Are you considering asphalt millings for your property in Wallkill? Hudson Valley Brothers would love to install your new driveway or parking lot for you!
Line Striping
Do you own a commercial building in Wallkill? Is the paint on your parking lot or roadways beginning to fade? Hudson Valley Brothers can help. We provide line striping and other pavement marking services. Why should you be concerned about line striping?
Visible line striping keeps people safe. It clearly communicates to drivers and pedestrians traffic flow, where to park, and the location of walkways. Not to mention, freshly painted lines show that your property is well-maintained and increases curb appeal. And, at Hudson Valley Brothers, we make sure that our line striping is compliant with laws regarding fire zone clearances and the American Disabilities Act.
Wallkill, New York
Hudson Valley Brothers proudly serves Wallkill, New York. We provide commercial and residential services to keep the homes and businesses of Wallkill looking sharp! We'd love to help repair, replace, or refresh your property too. Give us a call.
Other Areas We Service in Ulster County
If your home or business isn't located in Wallkill, you might still be in our service area. We do patching, resurfacing, and more throughout the Hudson Valley. Here are some other towns that we service in Ulster County.
Saugerties
New Paltz
Woodstock
Ellenville
Highland
Wallkill
Marlboro
Gardiner
Esopus
Rosendale
Plattekill
Stone Ridge
Accord
Milton
Port Ewen
Lake Katrine
Shandaken
Kerhonkson
Warwasing
Phoenicia
High Falls
Lloyd
Hurley
Napanoch
Shokan
West Hurley
Tillson
Glasco
Rifton
Cragsmoor
Bearsville
Pine Hill
Clintondale
Denning
Cottekill
East Kingston
Walker Valley
Maiden
Lincoln Park
Hillside
Saugerties South
Watchtower
Zena
Call: 845-868-2525
Or Fill Out the Form Below For a FREE Estimate!